The official banking platform for
Profit First
"The day someone opens a Relay account and sets up Profit First is the day they become immediately profitable."
Mike Michalowicz,

Creator & Author of

Profit First
Relay is a financial technology company, not an FDIC-insured bank. Banking services and FDIC insurance are provided through Thread Bank2,3 and Evolve Bank & Trust; Members FDIC. The Relay Visa® Debit Card is issued by Thread Bank pursuant to a license from Visa U.S.A. Inc. and may be used everywhere Visa® debit cards are accepted.
Profit First + Relay
= Total cash flow clarity
Together, Profit First and Relay ensure that every dollar is allocated according to plan—be it paying down debt, reinvesting in your business, or taking a profit.
Instantly open up to 20 accounts with no monthly fees or minimums
Name your accounts (Income, Profit, Owner's Pay, Tax, OpEx)
Set up auto-transfer rules to put allocations on auto-pilot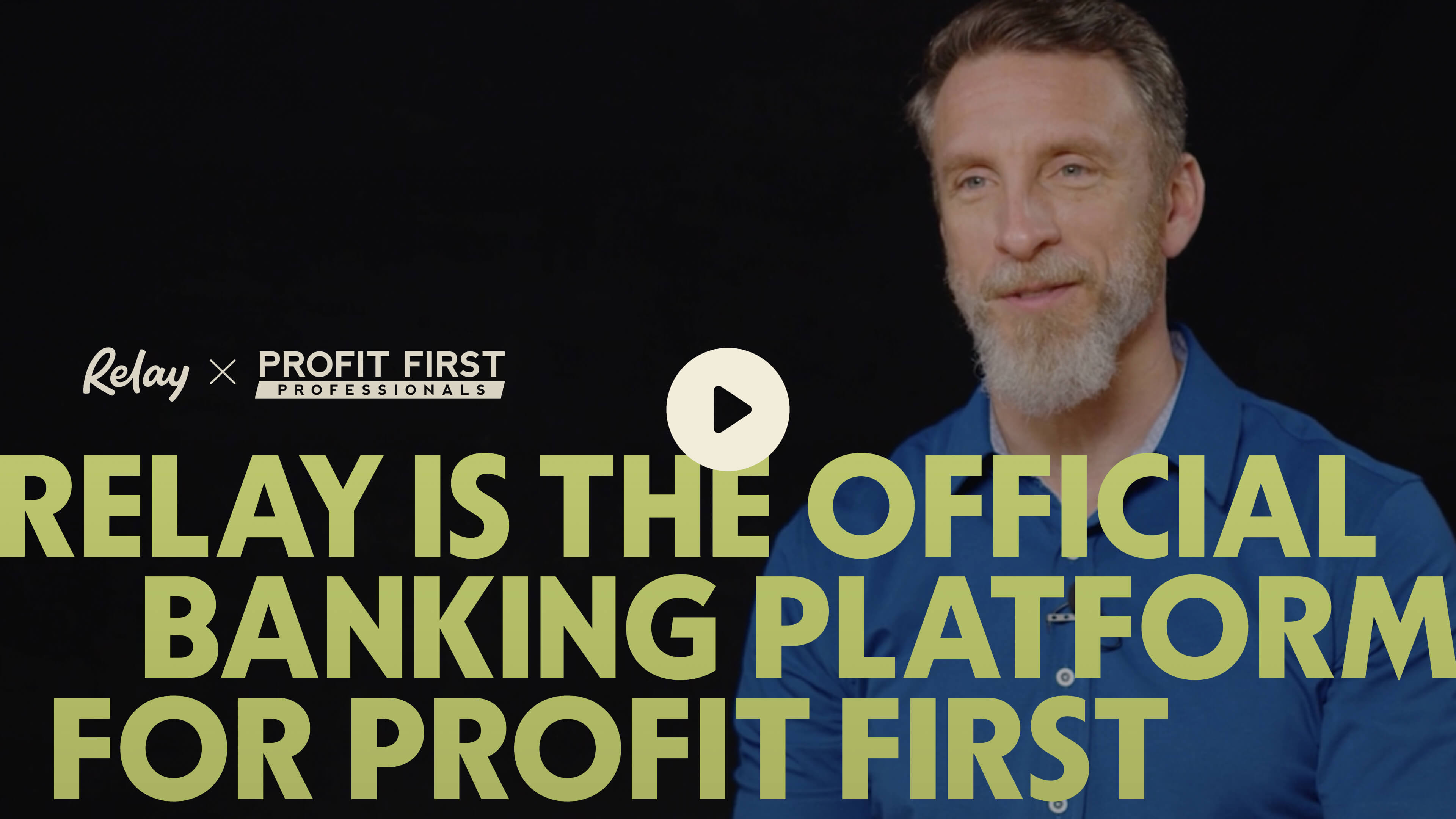 Manage cash with ease
3 Steps to set up
Profit First in Relay
Open multiple (real) checking accounts
Open up to 20 accounts and give each a nickname like Income, Profit, Owner's Pay, Taxes and Operating Expenses. Plus, create up to 2 savings accounts to earn 1-3% APY1 on idle cash, like your Tax and Profit savings.
Separate Relay accounts for Income, Profit, Owner's Pay, Taxes, and Operating Expenses
Automate your Profit First allocations
Create an auto-transfer rule to automatically allocate money from Income to other accounts. Customize your percentages and frequency, then let Relay take care of the rest.
Illustration showing allocating 15% of income to a Profit account, and 20% of income to a Taxes account twice a month
Get help from a Profit First Professional directly in Relay
Give your Profit First Professional a secure, role-based login to your Relay account to review expenses, strategize, and keep you accountable.
Four users in Relay with different permission levels, including read-only, bill payer, administrator, and manager
Open an
account
Apply online in minutes, open your free checking accounts in seconds, and get daily cash flow clarity.
Get started
Banking for
your clients
Relay makes it easy for accountants and bookkeepers to collaborate on Profit First banking with their clients.
Learn more
Kind words from our customers
What Profit First businesses say about Relay
From quick setup to automatic percentage calculation and transfers, Profit First businesses love banking with Relay.
Relay is THE BEST for running Profit First
"Relay is hands down THE BEST to use if you follow the Profit First method. New accounts are really easy to set up, allocations take mere seconds to deploy to your various accounts, and you can easily see where your business stands at a glance. They have awesome customer support and truly care about their customers."
Good for Profit First!
"It's very smooth, easy to use. I am doing Profit First, and it makes it extremely easy to set up multiple accounts. If you do a transfer and set up multiple transfers at once, you can even choose to split up your transfers by percentage!"
Relay is phenomenal
"As a Profit First Professional, I have a lot of clients that ask me for help when setting up their Profit First accounts. Relay is phenomenal. Not only is it easy to set up and use, the ability to make one transfer to multiple accounts and divide it up by percentages is life-changing. The transaction detail, virtual cards, and accountant access are simply icing on the cake! I highly recommend setting up your account(s) ASAP."
Resources for your business
Learn to put Profit First
See profit the instant
money hits your account
Get started